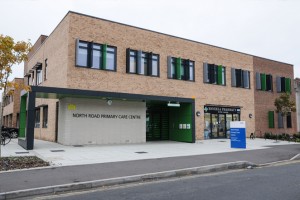 West Road Surgery
1st Floor, North Road Primary Care Centre, 183-195 North Road, Westcliff-on-Sea, SS0 7AF
Current time is 02:45 - Sorry, we're currently closed. Please call NHS 111

Telephone: 01702 339865
Out of Hours: 111
Practice Policies
Confidentiality & Medical Records
The practice complies with data protection and access to medical records legislation. Identifiable information about you will be shared with others in the following circumstances:
To provide further medical treatment for you e.g. from district nurses and hospital services.
To help you get other services e.g. from the social work department. This requires your consent.
When we have a duty to others e.g. in child protection cases anonymised patient information will also be used at local and national level to help the Health Board and Government plan services e.g. for diabetic care.
If you do not wish anonymous information about you to be used in such a way, please let us know.
Reception and administration staff require access to your medical records in order to do their jobs. These members of staff are bound by the same rules of confidentiality as the medical staff.
A copy of our privacy policy can be found here. Privacy Notice
Freedom of Information
Information about the General Practioners and the practice required for disclosure under this act can be made available to the public. All requests for such information should be made to the practice manager.
Access to medical records GDPR 2018
Making a Subject Access Request
Introduction
The Data Protection Regulation (GDPR) 2018 gives every living person (or authorised representative) the right to apply for access to their health records.
To make a request for a copy of your medical notes
A request for a copy of your medical health records held at Dr Cordess and Partners must be made to the practice via telephone or in person at reception. We will then send you the disclaimer paperwork which you must sign before taking copies away. Once we have received the signed disclaimer your notes will be prepared and we will contact you to come in and collect them.
Under the Data Protection Act (GDPR) 2018 (Fees and Miscellaneous Provisions) we are no longer able to charge a fee for providing copies of your medical record. However should anyone make repeated requests for the same notes, which we would deem excessive then charges would be levied to cover cost of materials and admin time.
To allow you to view your health record (where no copy is required) 
If you only wish to view your medical record then you can apply to have access to online services.Once registered you will then be able to view your online "read coded" record which includes test results, diagnosis etc. as well as order repeat medication and book appointments with your GP. If you wish to apply simply attend the surgery with some form of photographic id and complete the necessary forms.  All patients aged 13 years and upwards must apply to have their own online registration. Parents are no longer able to have proxy access to children and young people aged 13, 14 and 15 years old.
Exemptions
In some circumstances, the Act permits the data controller to withhold information held in your health record. These rare cases are:
Where it has been judged that supplying you with the information is likely to cause serious harm to the physical or mental health or condition of you, or any other person, or;
Where providing you with access would disclose information relating to or provided by a third person who had not consented to the disclosure. This exemption does not apply where that third person is a clinician involved in your care.
When making your request for access, it would be helpful if you could provide details of the time-periods and aspects of your health record you require (this is optional, but it may help save practice time and resources)
Subject access requests – third parties
 If a third party, such as a solicitor, requests a copy of your medical notes we will no longer provide them direct. As we are no longer able to charge a fee for providing this we are unable to incur the substantial postal costs required to send them on top of the cost of materials and admin time.   We will therefore write to the patient direct informing them that a copy of their medical notes have been prepared for the third party and that they will need collecting from reception. It will then be the responsibility of the patient to send the notes to their solicitor/third party at their own risk and cost. We advise all patients sending copies of their medical records to a third party to do so via signed for recorded mail. We will inform the company of this procedure.
Complaints
We make every effort to give the best service possible to everyone who attends our practice.
However, we are aware that things can go wrong resulting in a patient feeling that they have a genuine cause for complaint. If this is so, we would wish for the matter to be settled as quickly, and as amicably, as possible.
To pursue a complaint please contact the practice manager who will deal with your concerns appropriately. Further written information is available regarding the complaints procedure from reception.
Violence Policy
The NHS operate a zero tolerance policy with regard to violence and abuse and the practice has the right to remove violent patients from the list with immediate effect in order to safeguard practice staff, patients and other persons. Violence in this context includes actual or threatened physical violence or verbal abuse which leads to fear for a person's safety. In this situation we will notify the patient in writing of their removal from the list and record in the patient's medical records the fact of the removal and the circumstances leading to it.